---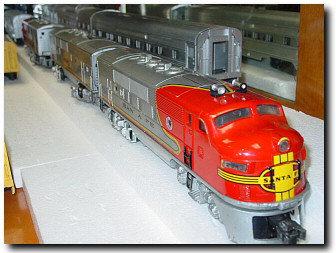 MERCHANDISE

We have a shop filled with trains! What we offer as specials is limited to on-hand stock. We are also fully connected to all major model railroad distributors and offer a complete line of equipment, accessories, scenic materials and tools. Whatever you want, we can get it for you IF it is currently available!
INTERNET SALES

Be sure to check out our Virtual Train Store Inventory and our eBay store (see link to the left on the navigation bar). We are currently accepting sales through phone, fax, e-mail. Order from us and we'll reward you with quick service and helpful advise!
SPECIALS

As mentioned above, our specials are based upon on-hand stock. Any re-order of an item will probably be at a higher cost. HOWEVER, we do deal! Give us a call and let's see what we can work out!
SHIPPING

Prices for shipping are calculated based upon your actual order. Contact us about specific costs or for any other options you might wish concerning the shipping of your order.
PAYMENT

We are authorized to take VISA, MASTERCARD and PAYPAL. We will take checks, but if you are ordering by phone or email and mailing us a check, there will be a delay in order for these to clear the bank. Money orders are also accepted.