---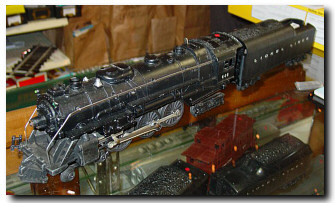 ORDERS

We have a shop filled with trains! What we offer as specials is limited to on-hand stock. We are fully connected to all major model railroad distributors and offer a complete line of equipment, accessories, scenic materials and tools. Whatever you want, we can get it for you IF it is currently available! If you cannot visit us, we can take phone and e-mail orders.
---
SELL, TRADE AND PURCHASE

We have worked with many collectors, trains guys and just folks who have model trains to help them either increase or decrease their collections. We can work with you on consignment sales, the purchase of estate train collections, and more. Please contact us direct to discuss what we can do to help everyone continue to enjoy the hobby!
---
REPAIRS
FOR QUESTIONS OR PROBLEMS YOU MAY CONTACT THE FOLLOWING;

LIONEL REPAIRS
CALL CHARLIE ROOSE MON-SAT 9-5 504 452-1000

LIONEL PARTS AND SERVICE
CALL BILL HARRISON LIONEL SS #91 TUES-FRI 9-5 EST 518 280-5197

HO, N OR G REPAIRS
CALL JOHN CHAISSON MON-FRI 9-5 504 650-9646

MTH REPAIRS OR PARTS
CALL MTH FACTORY MON-FRI 9-5 EST 410 381-2580
---
HELPFUL ADVICE

This is one of the things we do best! For information, comments, solutions to your model railroad problems and more, simply come by the shop and talk to our knowledgeable staff.
FOR MORE INFORMATION, CONTACT US!